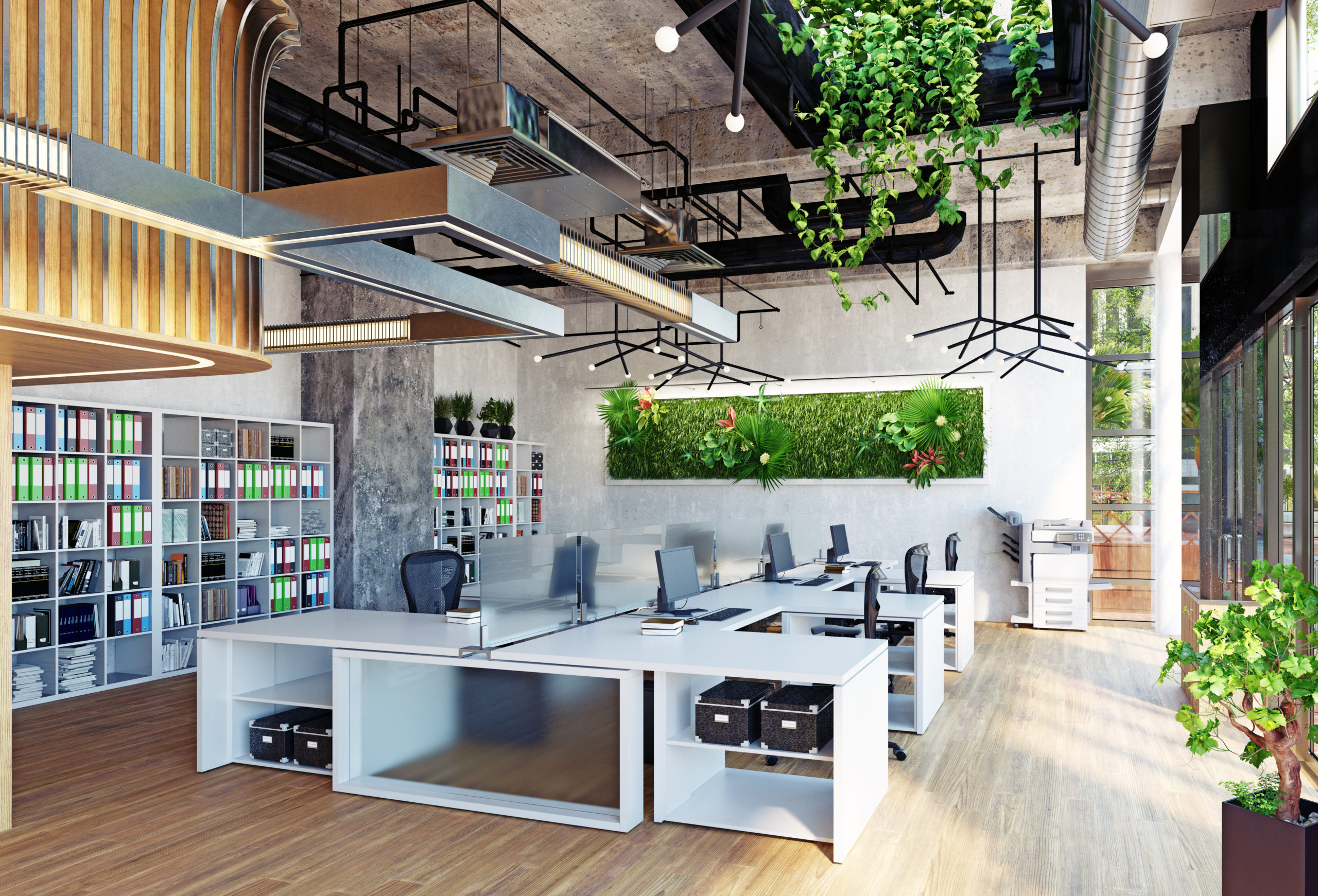 HOW CAN WE BRING CERAMIC TILES IN BIOPHILIC DESIGN?
Biophilic design is an innovative concept that consists of connecting with nature the buildings where we live, work and learn in a direct or indirect way. This way of designing does not seek only aesthetics, but it aims to bring people and nature together in order to improve the health and productivity of those inside the building.
Different studies have demonstrated that in workplaces employees surrounded by natural elements are much more efficient and have lower stress levels. At hospitals, patients heal faster and need less medication. At school, teachers' and student's absenteeism cuts down and at the same time their performance increases. And personal relations thrive between neighbours. Thus, by implementing biophilic design, architects and designers look for bringing into focus people's well-being.
The most traditional way of connecting our building with nature until now has been by placing vegetation, in the form of plants and gardens, and water elements, such as fountains or fish tanks. They make us feel free and surrounded by nature, instead of feeling overwhelmed by computers typing and telephones ringing. Some architects and designers even go a step further by adapting floors with carpets that simulate grass or ceilings with sound clouds that at the same time serve as noise reducers
Biophilic design can be applied to every corner in many different ways
But, if indeed we want to evoke nature and be brought to places that will make us feel free and isolated from or usual bustling rooms, why not use ceramic tiles?
If there is something that can help us connect with nature is that surrounded floor and walls make us feel part of a unique and incomparable habitat. To get that, there is no better way than resorting to porcelain ceramic with designs that imitate different elements in the biosphere taking advantage of the endless possibilities of digital printing. Moreover, Gres Aragón tiles need no maintenance and are perfectly compatible with multiple special pieces, such as steps, skirtings, corners, pool edges…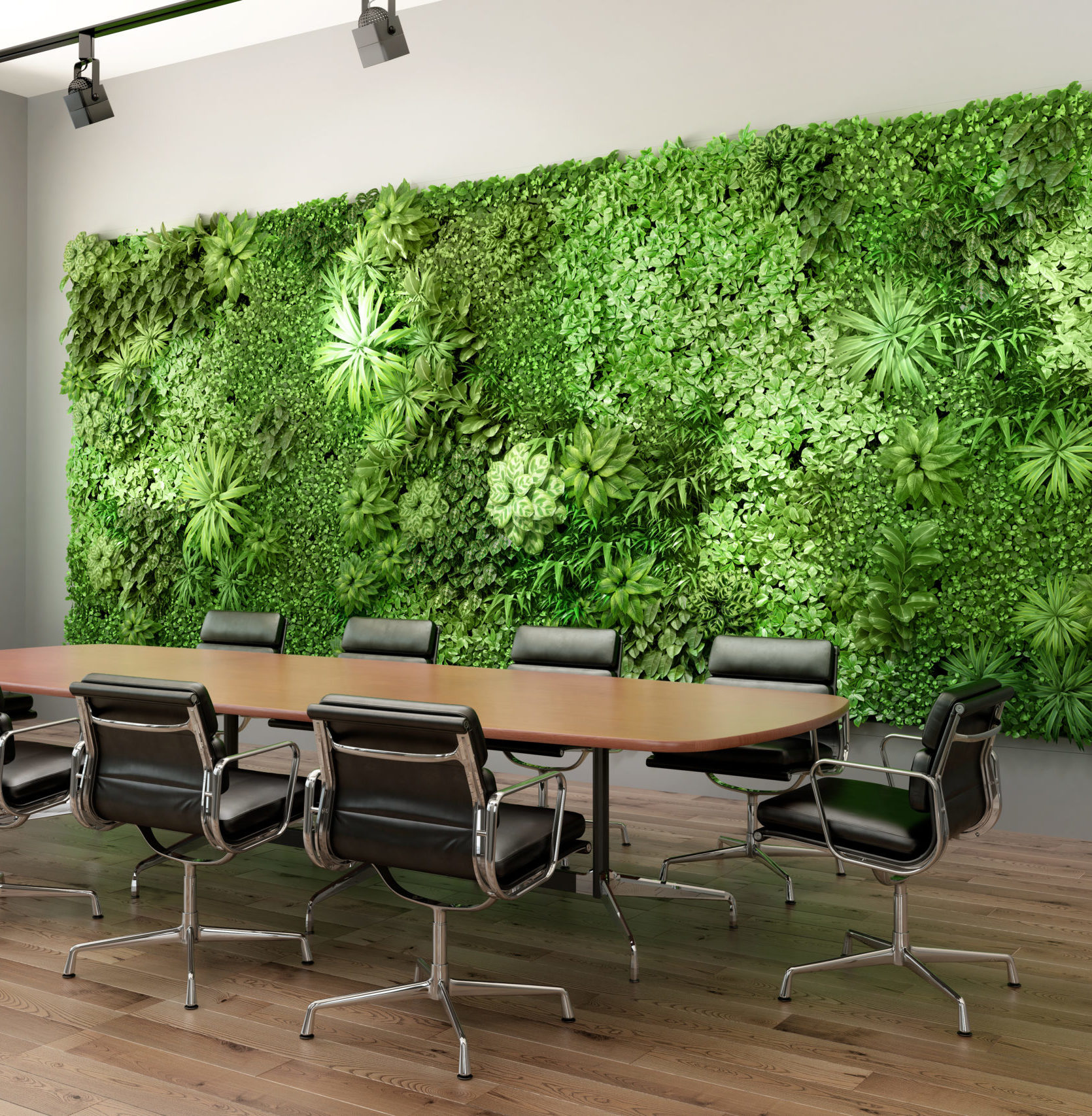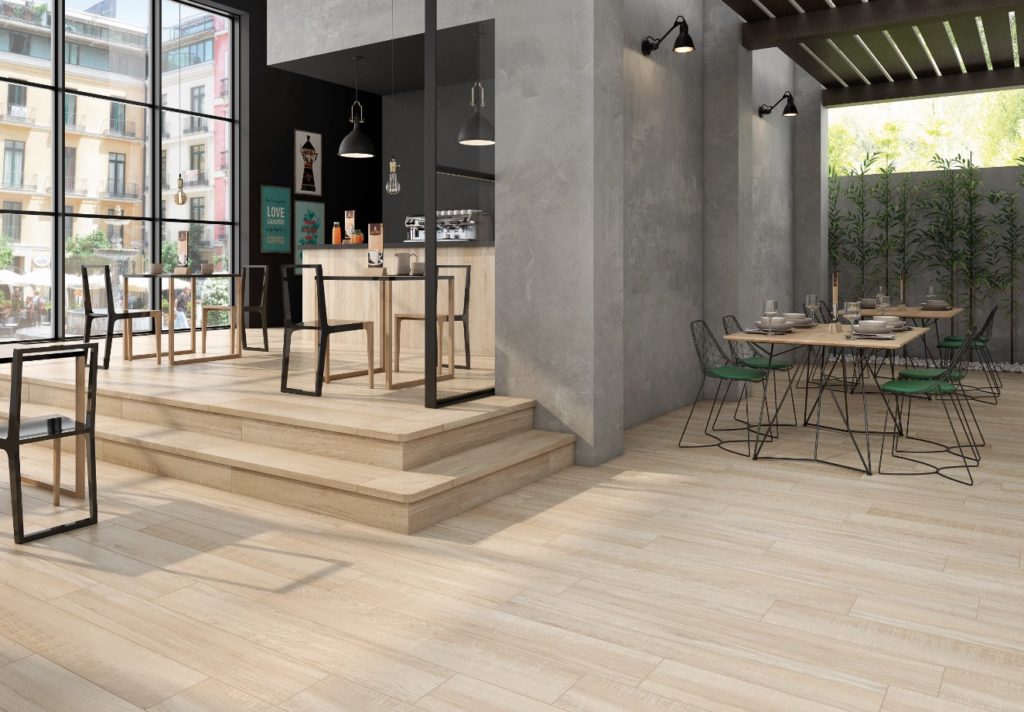 Those who want to get a feeling of rest typical of the forests of the Pyrenees, the French Brittany or the Giant Forest in California will find in the charming ORDESA series by Gres Aragón their perfect choice. These porcelain floor tiles have some spectacular designs that simulate natural woods in beige, grey and brown colours and, at the same time, keep the attributes and qualities of the ceramic. Moreover, this model is available in 15×60 and 20×120 sized strips with smooth and anti-slip finish and ready to be used both indoor and outdoor.
Porcelain ORDESA series perfectly simulates the looks of woods material without losing the characteristics and virtues of the ceramic tiles
In turn, those who prefer travelling to calm, pure and unique spaces such as the Rocky Mountains in North America, the Turkish Cappadocia or the Kjerag mountain in Norway have at their disposal several porcelain series with designs and graphics typical of natural stones, rocks and sandstones. For them, Gres Aragon has launched TIBET, ROCKS and ITACA series in porcelain ceramic, which are available in different modular formats from 30×30 to 60×120 in smooth and anti-slip finish and that include a whole range of special pieces to be used in stairs and pools.
What's more, in extruded klinker, ORIÓN and COLUMBIA series by Gres Aragon were conceived to be used in outdoor terraces in formats 16×33, 33×33, 33×50 and on walls with 6×33 strips.
ITACA ceramic model by Gres Aragón presents a high-detoned appearance to represent the large diversity of tones of natural sandstone.
There is also a place for those who wish to include in their rooms some water elements that instil the peaceful feeling of the Adriatic Sea, the Yucatán Peninsula or the bays of the Java Sea. OCEAN porcelain tiles are their best ally. In 15×15 and 30×30 formats, this outstanding ceramic collection by Gres Aragon presents different tones of blue sea that will bring us to paradises where water is the main focus and help us in winding down, through any of their glossy and matt choices.
The most ambitious ones can even opt for a combination of several of these collections in order to create a unique and unrepeatable environment that will help us escape from the routine and the rush of the city. It allows us to awake our personal creativity and stay focused on our work or study places. This is also a very suitable alternative for places dedicated to relax and rest such as hospitals, waiting rooms or spas and wellness centres.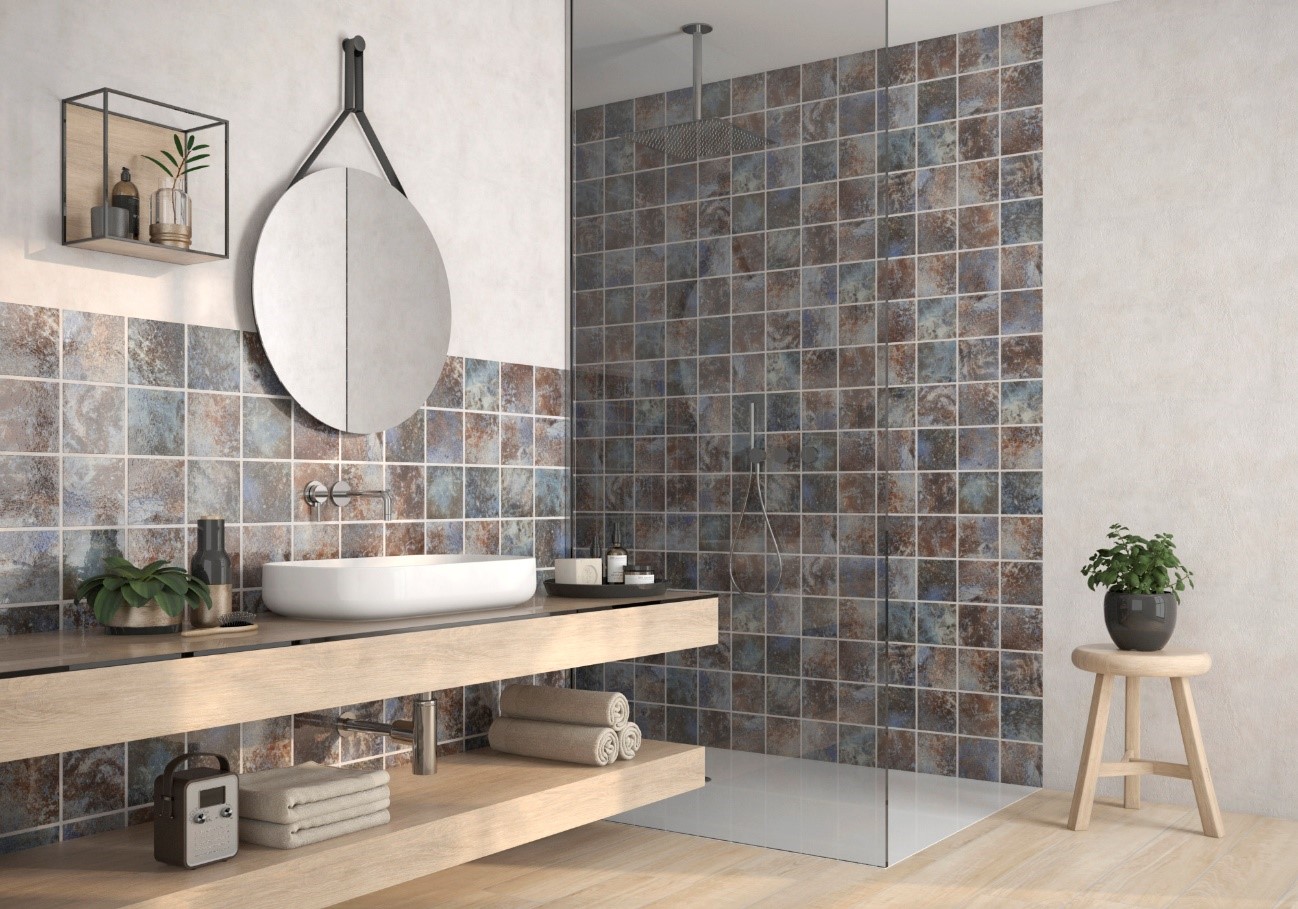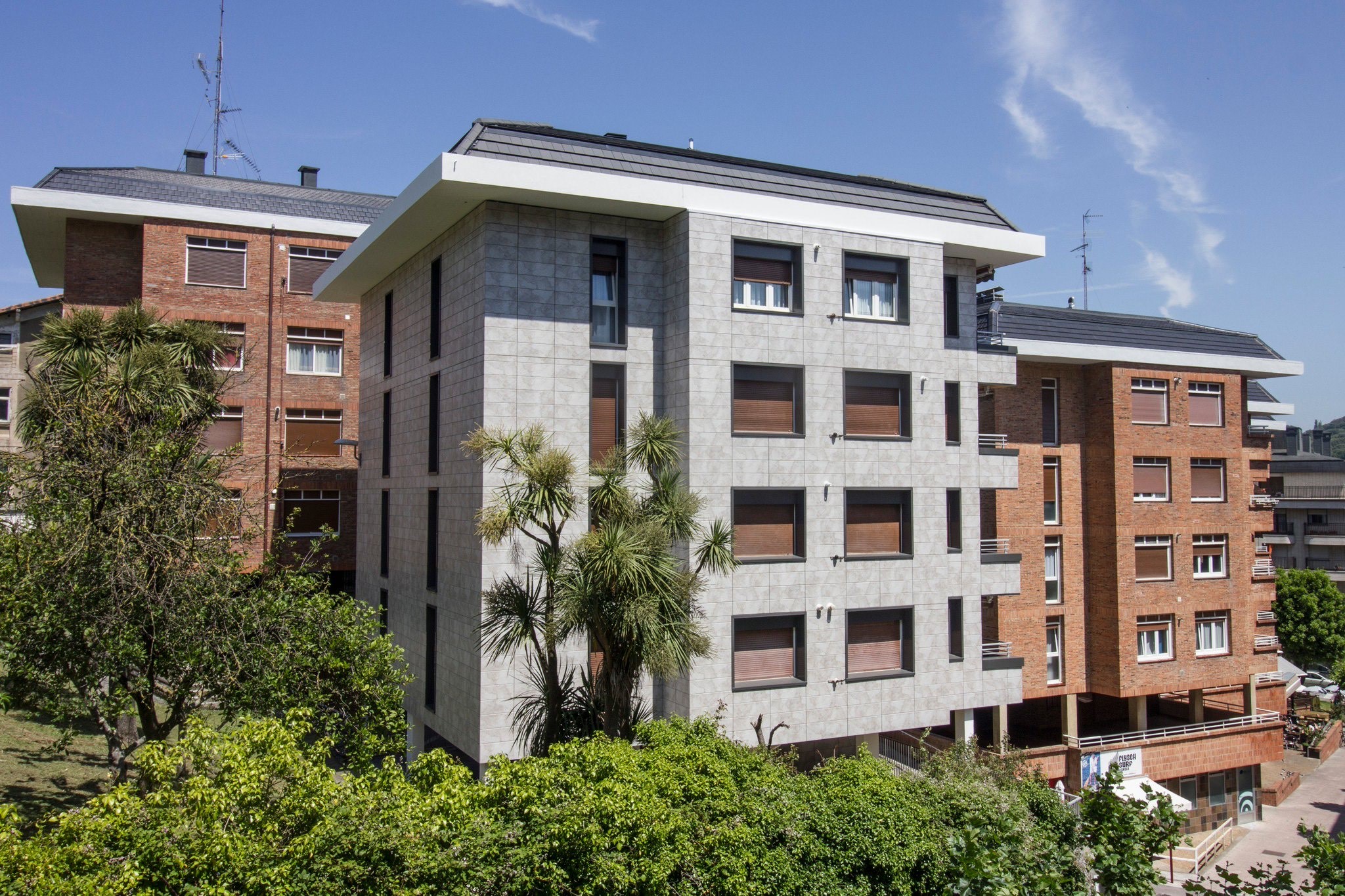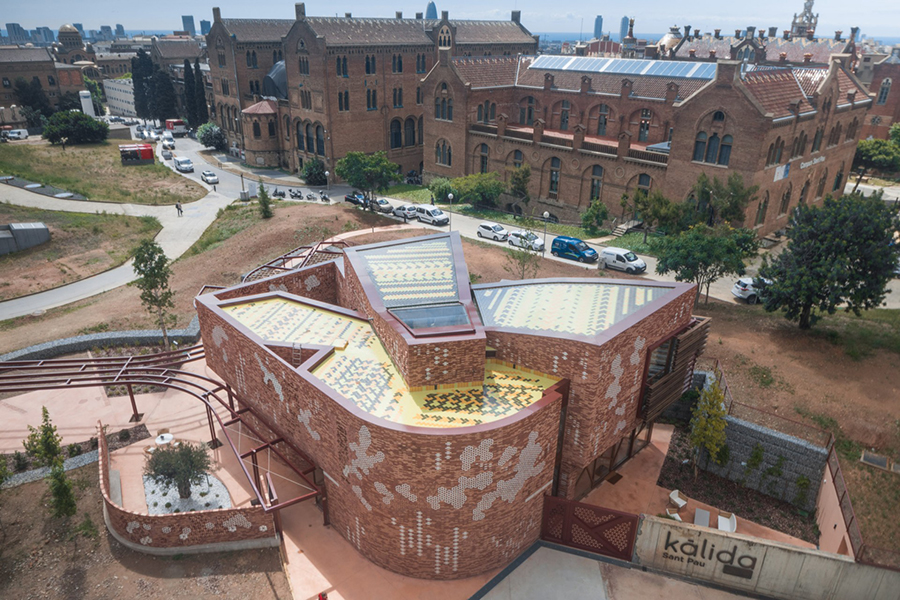 OCEAN porcelain series is inspired by the feeling the calm and peaceful calm of crystal waters.
The best of the best is that the use of ceramic tiles to achieve a biophilic design, either porcelain or klinker, does not mean to place it just on floors and walls. Now, thanks to ventilated façades by Faveker® we can bring nature to the very outer skin of our building, since those same digital designs of woods or natural stone can be printed on our ventilated façade.
Adding Faveker® ventilated façade to our architecture and taking advantage of digital printing, we won't just incorporate a valuable element to our biophilic design, but we'll also be installing a sustainable, eco-friendly and energy-saving material that works at the same time as thermal and acoustic insulation.
Thus, Gres Aragon ceramics are the perfect solution if we want to implement biophilic design in our building and, what's best, this is a sustainable product that can be brought to almost everywhere (floors, walls, terraces, stairs, pools, façades…) with unique and long-lasting features.