Trento Max 1,2,3, Zaragoza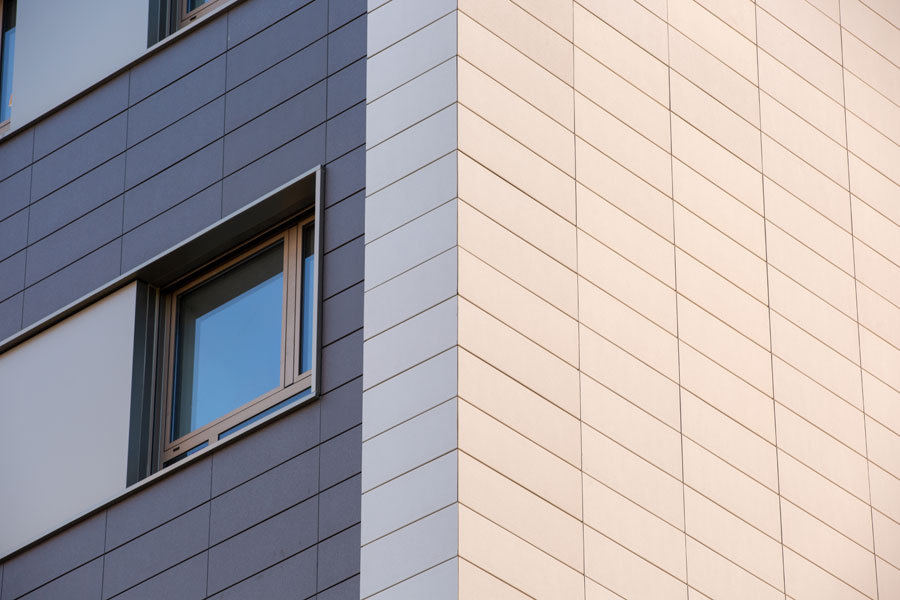 A recently built residential complex, beautifully designed, which plays with the tonality of the pieces in the different volumes of the building. FAVEKER® GA16 assembled tiles are in Blanco Ebro and Gris Ebro colors, which have texture on the surface and inserted micas in the glaze, giving the piece a granite look. Tiles are up to 1.200 mm. large, which thanks to the strength of the tile allow installing supports also every 1.200 mm. minimizing the necessary amount of vertical profiles.
The perfect combination of different materials in the skin by the project designer generates a wonderful and impressive result. FAVEKER® porcelain tiles grant prominence to the building and make of it an architectonic symbol in the city.
The used fixing system is FTS 502B, with double clip and an EPDM strip on vertical stanchions, and generates a ventilated chamber which is protected against the entry of moisture and sheltering the insulation. As a result, high energy efficiency is obtained together with a great inside comfort.
Date
2018 – 2019
Location
Zaragoza
Material
GA16
Colour
Blanco Ebro, Gris Ebro
Fixing System
FTS502B
Architect
Joaquín Lahuerta
Promoter
EBROSA
Constructor
ACR
Installer
LOUVELIA