September is a month for beginnings: school year starts again, gyms are packed with new members, and TV channels launch their new programmes for the season to come. In short, the end of the summer brings new challenges to reinvent ourselves.
For GRES ARAGÓN, September 2021 has been a little more special this year if possible: after more than a year and a half in standby, in-person trade fair activity has come back intensely and GRES ARAGÓN has been present in thee of the most important trade shows in the industry in a three-week spell. This allowed us to see again many familiar faces of clients, suppliers and partners, and to meet very successful contacts for projects in the near future.
THE BIG 5 (DUBAI)
Firstly, from the 12th to the 15th of September we travelled to Dubai, in the UAE, where THE BIG 5 took place, the most important fair for construction in the Middle East.
There, GRES ARAGÓN presented onsite one of the novelties of 2021 catalogue: the new MARBLE collection, marble-inspired and available in two colors: Travertino and Carrara, and two sizes, 30×60 y 60×120, in smooth and antislip finish, including all special pieces to complete stairs and terraces in an elegant and sophisticated style, as the 120 cm long steps. Moreover, new colours were added to previous collections, such as URBAN CAOBA, ORDESA NATURAL and OCEAN BLUE BALI, in sizes from big 60×60 to tiny 15×15, with the full kit of pieces to build pool finishing systems and pool interior walls of any kind.
The Big 5 was also the best opportunity for GRES ARAGÓN to show their systems of ceramic ventilated façade, produced by the brand FAVEKER. Plenty of architects, builders, developers, installers and distributors could know in detail the advantages of a sustainable system that helps to reach large consumption savings as well as lower emissions of CO2.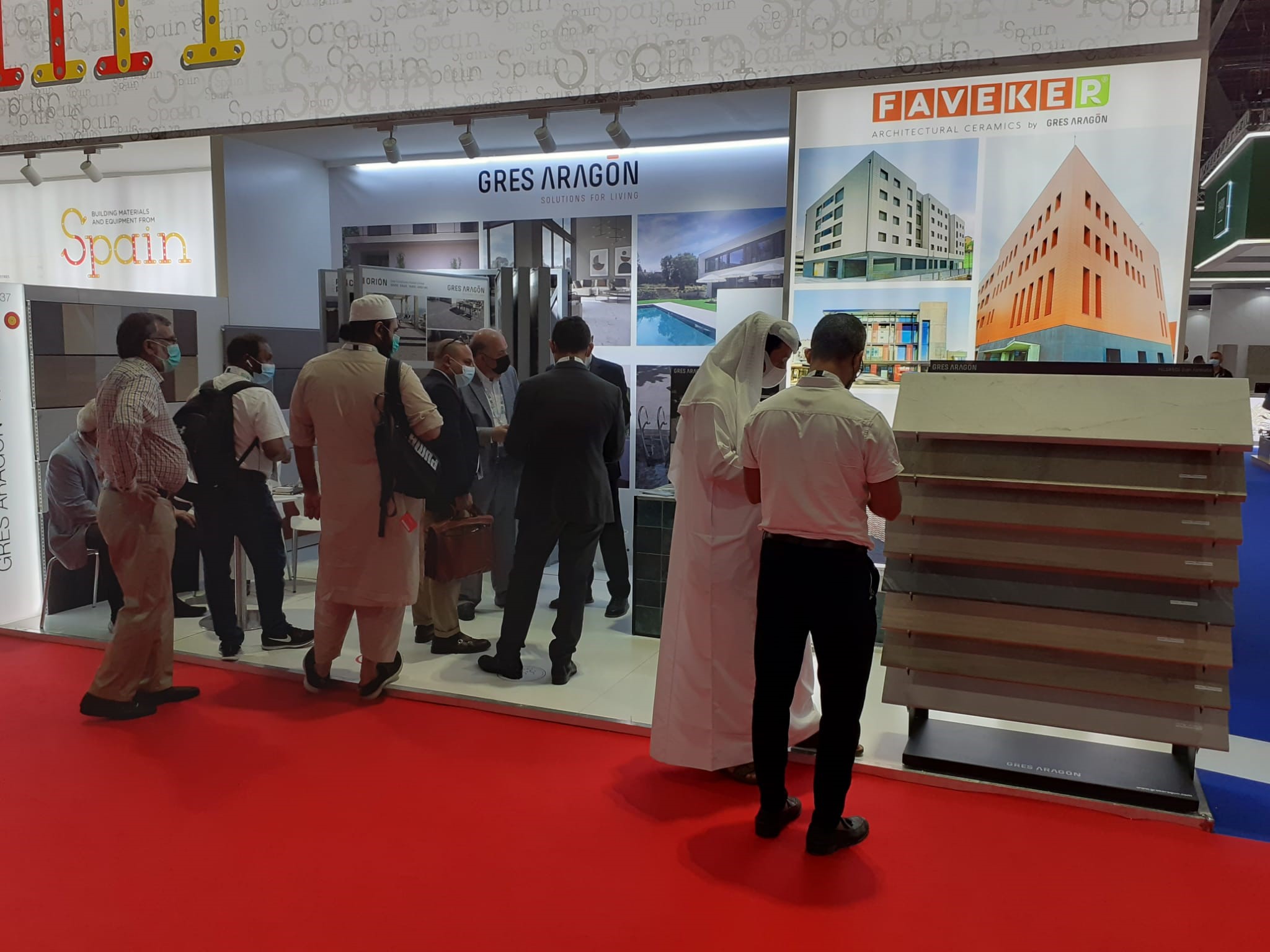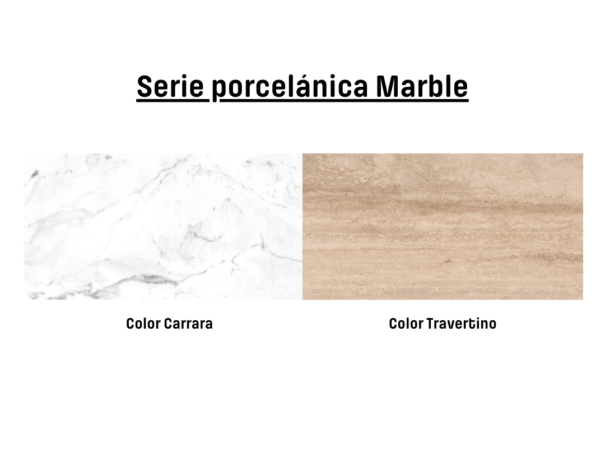 REBUILD (MADRID)
With no time to rest, FAVEKER came to be a protagonist at REBUILD show, where more than 10.000 people attended between the 21st and 23rd of September in Madrid the biggest Spanish event on the changes in the current building industry. FAVEKER was there prominently as Event partner, and hundreds of the industry professionals could discover first-hand all ventilated façade models and systems that exist to insulate a building from the outside with alveolar FAVEKER porcelain ceramic panels. GA16 and GA20 products were present in a booth that stood out because of the huge range of colours, surface-types and details that were present in each and every of the architectural solutions.
Moreover, José Manuel Grao, director of Contract and Innovation at GRES ARAGÓN and specialist in architectural ceramics and structural solutions gave a lecture on Sustainable and efficient thermal enclosures that help to put into practice circular economy. He also took part in the roundtable on Strategies for a new construction industry, with great success of attendance and opinion.
CERSAIE (BOLOGNA)
Finally, GRES ARAGÓN travelled to Bologna, Italy, to participate one more year in the biggest international venue for the ceramic tile and bathroom furnishing: CERSAIE. From the 27th of September to the 1st of October, the over 62.000 visitors at the fair trade could visit GRES ARAGÓN booth and be amazed by extralong steps up to 180 cm and endless solutions for sport and private pools of ACEPOOL collection by GRES ARAGÓN. In addition, FAVEKER ventilated façades and ACIKER technical floor tiles with Bioklinker anti-bacteria technology had their place too in a booth whose design was a nod to sustainability.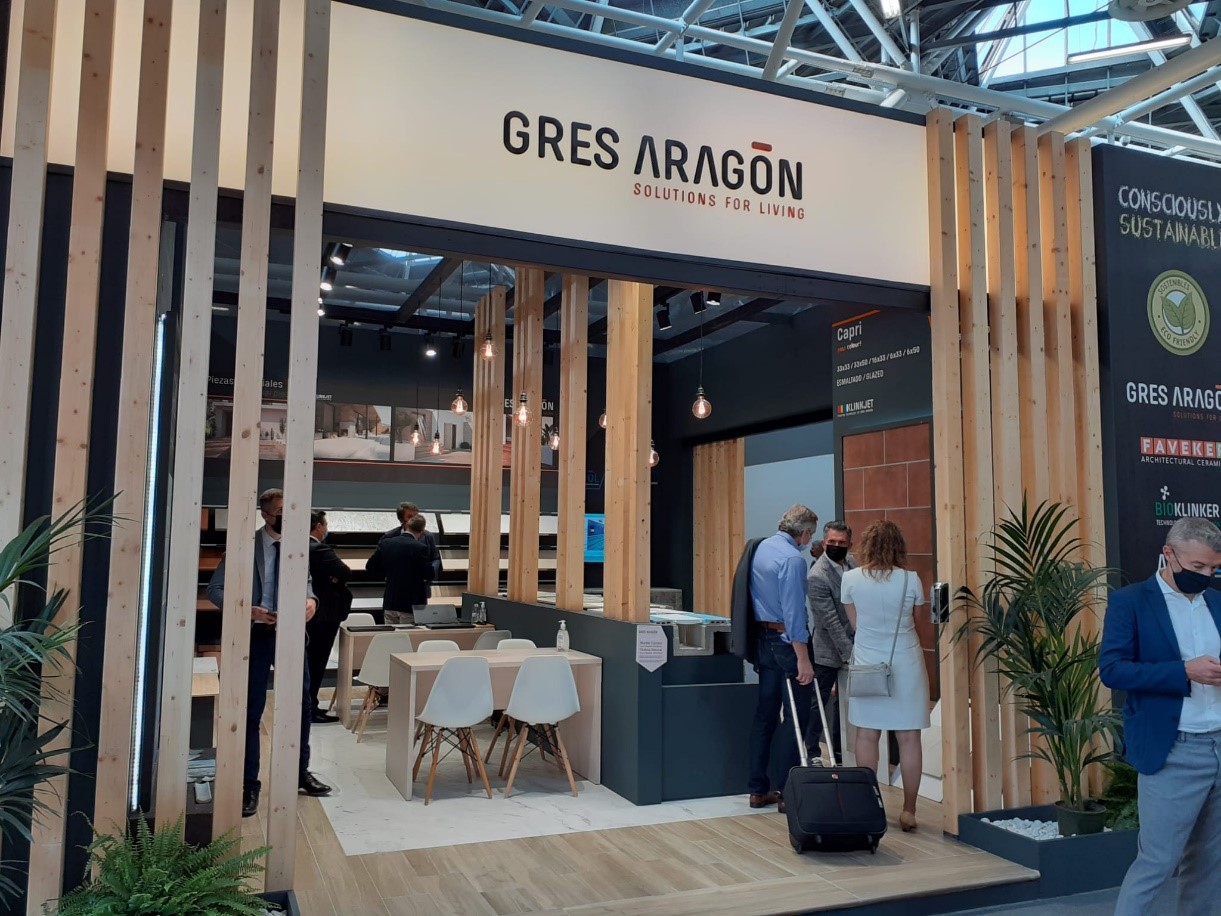 Cersaie 2021 was also a unique occasion for those distributors, architects and constructors from all around the world who visited GRES ARAGON booth to discover in advance and with the help of the sales team the new products that are coming in 2022, such as porcelain series NADOR and NITIDA, of water and natural stone styles respectively, which promise to delight every pool and terrace lover.
In conclusion, September has been a very intense month for GRES ARAGÓN, who has been at three crucial events around the world. In addition to having presented their novelties, GRES ARAGÓN has met again with those who are our
raison d'être: clients, distributors, architects, installers, builders, developers… in short, everyone who needs an efficient and sustainable solution for the inside and outside floor, terraces, stairs, pools or façades.
Now, with little time to rest, it is the moment to keep working on the relationships established at each of these past events and to prepare the next shows, with the same excitement and expectations to present our products and to meet old friends as well as to open new business opportunities.